Pandemic Effects on Distributors
Research Report 3 in the NAW Series: Adding Value in a Post-Pandemic World: New Leadership Strategies for Distributors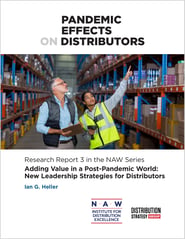 With signs that masks, social distancing and, especially, vaccinations, may put COVID-19 in the rear-view mirror in 2021, we will explore in this third research report how the effects of the pandemic will change the distribution industry in the long run.

Our goal for this entire series is to ensure that distributors who participate in this series are armed with new modes of thinking along with information that can help them build robust strategies with staying power.

Click here to watch on demand the accompanying webinar, Pandemic Effects on Distributors and Click Here to download the slides.