Emerging and Traditional Technology Requirements
Research Report 5 in the NAW Series: Adding Value in a Post-Pandemic World: Channel Transformation from Supplier to Customer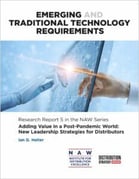 In this report, we review a variety of IT architectures based on various distribution business models, sizes and markets.
We also summarize the importance and potential of several emerging technologies to help your team prepare for what is coming next.

Click here to watch on demand the accompanying webinar, Emerging and Traditional Technology Requirements and Click Here to download the slides.