Channel Transformation from Supplier to Customer
Research Report 4 in the NAW Series: Adding Value in a Post-Pandemic World: Channel Transformation from Supplier to Customer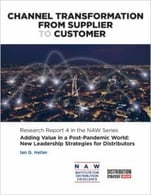 Suppliers are increasingly selling direct, customer demographics are skewing younger and many distributors are struggling to keep up.

Distributors are grappling with fundamental changes in the expectations of their supply chain partners. Suppliers increasingly report frustration with their distributors' poor digital capabilities. In this fourth research report and accompanying webinar, we will recommend actions to address this growing channel conflict.

Click here to watch on demand the accompanying webinar, Channel Transformation from Supplier to Customer and Click Here to download the slides.